[ MtnVista Home Page ] [ Family Home Page ] [ Mountaineering Home Page ] [ Recent Updates ]
<![if !supportLineBreakNewLine]>
<![endif]>
<![if !supportEmptyParas]> <![endif]>
---
Booker & Horseshoe, Part 1
(USGS Cascade Pass, GT Cascade Pass)
July 15-17, 2006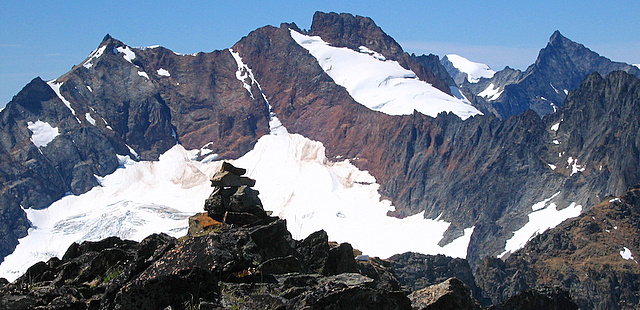 Booker Summit Cairn (Sahale & Boston behind, with Eldorado & Forbidden in corner)
(Click any photo to enlarge)
Party:
Matt Burton, Mike Torok, Billie Butterfield
Peaks: Booker 8280 (Top 200), Horseshoe 8440 (83rd of Top 100)
<![if !supportEmptyParas]> <![endif]>
Introduction:
Ambling Animals! Flourishing Flowers! Cascading Waterfalls! Scenic Summits!
Glowing Sunsets! Magnificent Mountains! Congenial Companions!
This trip was a highlight of my summer. It delivered a cornucopia of alpine rewards all along the way:
A scenic trail climbing from valley to pass (Cascade Pass).

A high trail tracking upward through alpine meadows (Sahale Arm).

Flowers sprouting color amid the meadows and rocks.

A menagerie of animals, even baby ptarmigans.

A giant glacier-scoured basin to traverse (Horseshoe Basin).

Waterfalls cascading down everywhere.

A high rim of crests above and wide vista of peaks around.

A rarely climbed Top 200 summit on Booker.

A quick tag of an orphan Top 100 peak on Horseshoe.

A sunset of rich alpenglow casting the summits into burning relief.

The comfortable and competent company of Billie & Mike.
Originally this trip was just a contrivance to accomplish Horseshoe, which is on the Top 100 list, but not a very interesting climb in its own right. I figured Booker was a more attractive destination, and its approach traverses Horseshoe Basin, so I could probably persuade someone to accompany me up Horseshoe.
The trip was three days. Day 1 we hiked to a high camp in Horseshoe Basin via Cascade Pass and Sahale Arm. Day 2 we climbed Booker and Horseshoe. Day 3 we exited back via Sahale.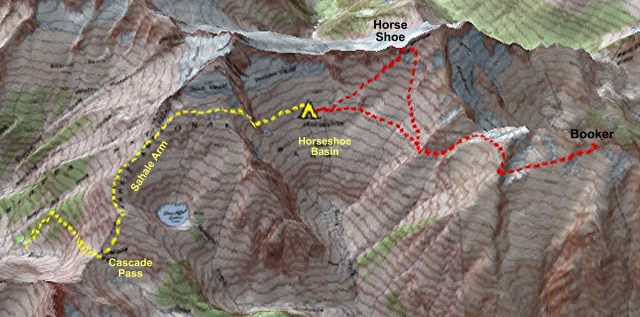 Actually, Horseshoe Basin itself turned out to be my favorite part of the trip. It's difficult to access, but a magnificent piece of alpine architecture to explore -- -- a miles-wide, thousands-of-feet-high, steeply-tilted curve of mountain terrain, broadening upward to a high rim of summits and narrowing downward into a steep valley, stitched together by dozens of waterfall streams funneling down the glacier-carved rock between.
Horseshoe Basin viewed from east side

(standing on Booker, looking to Sahale & Boston)

Horseshoe Basin viewed from west side

(standing on Sahale, looking to Buckner & Booker)
Report:
Day 1: Cascade Pass to Sahale Arm to Horseshoe Basin
Cascade Pass
We started from Cascade Pass, 3600 feet, at 10:15am. As always, the trail entertained me by providing ever-wider views across the valley to the hanging glaciers on Johannesburg. It's a classic piece of North Cascades terrain – sweeping ones eyes upward from deep valley to steep cliffs, green meadows, white glaciers, and craggy summits; then plunging back down to follow the courses of steep streams "cascading" downhill. Low on the trail, I encountered a deer in the forest and a grouse thrumming its weird orange neck pouches. Higher up, there were meadows blooming with columbine and heather. At Cascade Pass, 5400 feet, we rested and chatted for awhile with a ranger and various tourists.
| | | |
| --- | --- | --- |
| Cliffs below Cascade Pass | Grouse along the trail | Approaching Cascade Pass |
Sahale Arm
We continued up Sahale Arm at 12:45. The way trail was free of snow except a few patches. The steep lower slopes were carpeted (maybe wallpapered, considering the angle) with yellow glacier lilies. Reaching the crest of the arm, we got our first view of Booker's sloping notched summit out eastward, Doubtful Lake in its deep waterfall-fed hole below us, and Sahale's triangular point northward above us.
| | | |
| --- | --- | --- |
| Above Cascade Pass | Doubtful Lake | Hiking up Sahale Arm |
The higher we climbed, the more we could see of the best views in the Cascades. Westward Boston Basin opened up. Southward stood the Ptarmigan Traverse peaks and rank after rank of others beyond. Meanwhile the meadows sprouted gardens of flowers around our feet – white puffs of bistort, blue columns of lupine, lavender trumpets of penstemmon.
| | | | |
| --- | --- | --- | --- |
| Glacier Lilies | Bistort & Johannesburt | Penstemmon & Forbidden | Heather & Sahale |
Eventually we transitioned to bare fields of rock higher up and reached the Sahale moraine and campsites, 7200 feet, at 3:30. On the bare, windy moraine, the campsites looked like little fortresses, completely enclosed by hand-made rock walls several feet high. At the east end of the camps, we met a half-molted mountain goat. It looked like two pieces of a mismatched costume -- clean new short white summer fur on its front half, and scraggly old long winter fur on the back.
Descent from Sahale to Horseshoe Basin
We traversed east past the campsites and below the SE toe of the glacier circa 7500 feet. Now we could descend a gap in the cliffs that border Sahale's edge of Horseshoe Basin. On steep snow (slabs later in the summer) we angled northeast downward a few hundred feet to the top of a rib that descends further the basin. On the rib's left, we could finally see the wide tilted expanse of the basin, crowned by Buckner at its far corner. On the rib's right, streams of water from Sahale dropped down cliffy slabs in precipitous waterfalls.
Goat on Sahale Moraine

Descending from Sahale to rib

Ripsaw Ridge, Horseshoe, & Buckner

(Camp is in lower right corner)
We followed the rib down to its furthest passable point, where Mike promised there would be an easier snow-filled gully. The upper parts were mostly second class ledges with a few brushy detours down on the left side. The last couple hundred feet became third class with a few brief fourth class steps, but there were lots of holds on (mostly reliable) brush and (questionably reliable) junky rock. At the end of the rib, (probably about 6800 feet) we found Mike's promised gully, dirt at the top and then snow widening out below to reach the basin circa 6500 feet.
| | | | |
| --- | --- | --- | --- |
| Near top of the rib | Descending steep part of rib | Looking down the gully | Below the gully |
Horseshoe Basin
Now we wanted to find a camp somewhere in the middle of the basin. The whole thing slopes relentlessly downward, never too steep for travel, but never naturally level enough for a camp, just a wide curving expanse of tilted benches, slabs, moraines, and meadows. Where we entered on the western edge, it's mostly tiers of slabs polished by the Davenport Glacier. The glacier has retreated higher up the slope, but it still sends its water streaming downward in row after row of waterfalls tumbling across the ledges. We traversed around the basin circa 6600, where a wide bench led us past one waterfall after another.
Horseshoe Basin Waterfalls
Midway across, just before a prominent vertical moraine, we dropped down and made camp amid other moraine debris, where a higher dirt content required excavating only a couple hundred rocks to make level tent platforms, 5:45pm, 6500 feet.
From camp, I could appreciate the sweep of peaks around the rim of the basin above us. On the left (west), cliffs angled upward to the tilted point of Sahale and then the rounded lump of Boston. Across the crown of the basin (north), Ripsaw Ridge earned its name in a long row of sharp black teeth, the rightmost of which was Horseshoe. On the right (east), Buckner climbed to the paramount height of the crest, and then swept out a long arm to Booker.

Sahale, Boston, Ripsaw, Horseshoe
Following the flow of peaks around the rim, I could see the character of the rock demonstrated in both shape and color -- steep and dark gray up toward Sahale, lumpy and deep iron red around the corner of Boston, turning darker black and more sharply eroded on the Ripsaw rim, and then shading to lighter gray up the stronger height of Buckner.

High points of Horseshoe & Buckner catching the sunset light.
At sunset, shadows climbed the basin until the last alpenglow marked out only the highest peaks on the east side, a last red light on the uppermost tips of the smaller tower of Horseshoe and the higher crown of Buckner.
This page includes only Day 1 of the Booker/Horseshoe trip report. For Days 2 & 3 of the trip, please click here.
---
<![if !supportEmptyParas]> <![endif]>
<![if !supportEmptyParas]> <![endif]>
(Click any photo to enlarge)